Working continuously and interactively with Eurocard's brand portal
One digital platform showing how everything is connected – the brand and communication platforms, together with the graphical guidelines. Maria Dahlquist, Marketing planner at Eurocard, explains what's behind the success factors, how they use their brand portal in their daily operations and the next steps for the brand Eurocard.
Tell us about Eurocard and your role.
Eurocard offers payment solutions for all kinds of companies and organizations. We are a market leader with a wide range of cards, travel accounts and various tools for administration and follow-ups that can be adapted to national and international operations. 
As a Marketing planner for Eurocard, my role includes responsibility for the brand and marketing communications. 
What do you experience to be the success factors in Eurocard's brand strategy? 
Some years ago, we made a retake on our brand strategy and visual identity. It was essential for us to communicate that we are more than just an issuer of credit cards. 
With support from the management and by creating a dialogue within the company – raising awareness about what the transition means for everyone – we succeeded to implement the brand strategy in all areas of the business with ambassadors outside the marketing department. 
How do you use Eurocard's brand portal in your day-to-day operations?
I find it important that the portal is easy to access, both for my colleagues and agencies working with us. Our choice to keep the brand and communication platforms at the same place as the graphical guidelines, is for all to get a better understanding on how it supports each other.
We have had the portal for some years, and work with it continuously as the brand is developing. Whenever we receive input from visitors to add sections, it is easy to update, and we ensure that everyone always has access to the most up-to-date version of the brand.
"Whenever we receive input from visitors to add sections, it is easy to update, and we ensure that everyone always has access to the most-to-date version of the brand."
If you were to share three insights from having a digital brand portal, what would they be?
We digitalized our brand manual many years ago, so I have almost forgotten the challenges with pdf copies sent by email. If I were to name three, I would say:
Easy to share with colleagues, partners and agencies
Always the latest version available
Easy downloading gives less variations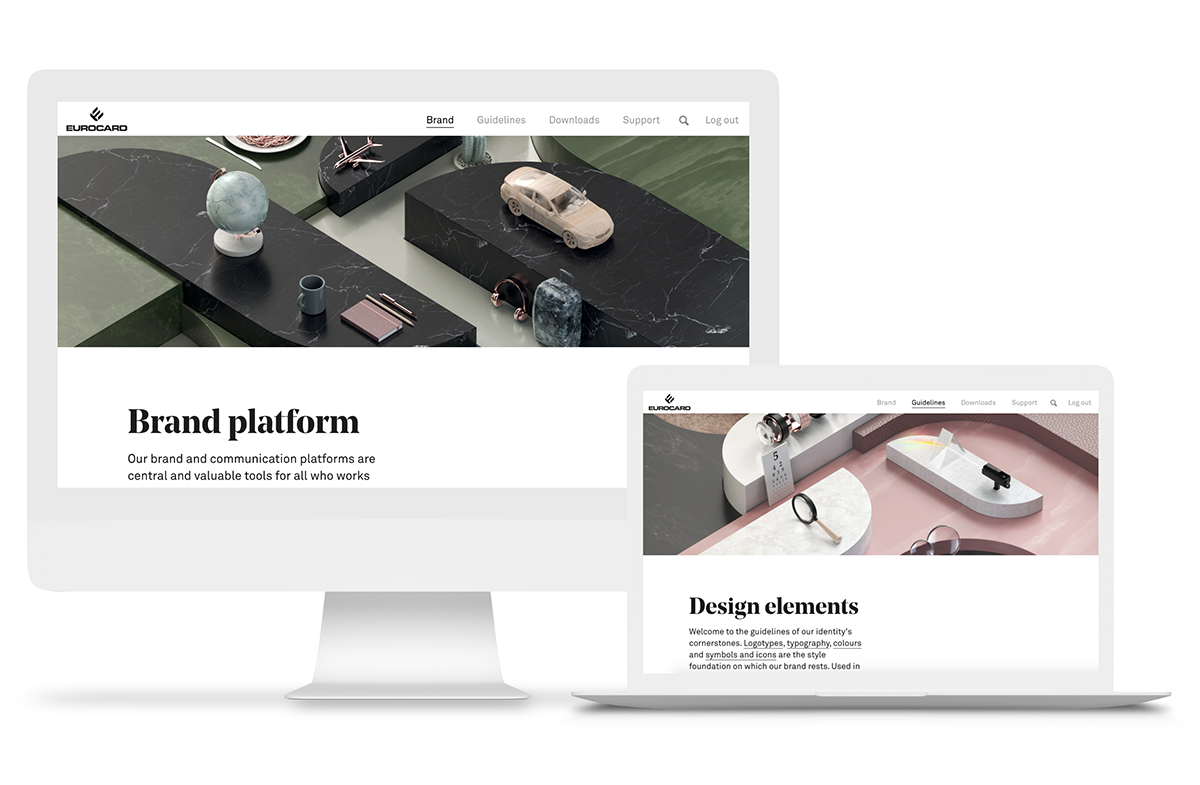 What do you see as the next steps to continue strengthening the brand Eurocard?
We have a new ad concept to further develop during the year and right now we transact a design audit to make sure we are consistent in all customer touch points.
After the result we will see if there are any changes to be made in the portal or to our guidelines. It is essential that there is room for creativity, while still keeping the brand together.
The warmest thank you to Maria for taking the time to share her experiences around the brand Eurocard and their brand portal.