Take the brand to new heights – From strategy to adoption with Ylva Lipkin
A strong brand is greatly defined by the extent to which the workforce incorporates brand strategy into actions. Ylva Lipkin, Brand Manager at If P&C Insurance, helps provide insights on where to set focus – sharing her view on strategic brand management, how to implement brand strategy in practice and the role Brand Portal plays in supporting their work. 
Tell us a bit about yourself.
I work as a Brand Manager for If P&C Insurance, with previous experience from the financial sector, sawmill industry and design agency. Passionate about design, I've worked with the whole chain from strategy to development and implementation of a new corporate identity. During non-business hours I'm interested in literature, art and languages.
What does branding mean to you?
Branding to me means a conscious, aligned and consistent way of acting to all types of stakeholders. Use all parts of the brand that's in our control, to impact the way people think of us and show how we are different from others.
Describe your view of strategic brand management.
A brand strategy is the foundation, with cornerstones like brand position, customer promise, core values and purpose, mission, heritage, or similar. 
Brand management must be built on insight. It must be constantly reviewed and updated when needed. And most of all, communicated to all parts of the organization – from customer service, product development, marketing & communication, to the physical and/or digital experience when getting in contact with the brand. 
Then there's also the more legal parts of the brand management like brand protection. I'm also a big fan of making brand audits on a regular basis, for constant learning and improvement.
What's your three top advice to implement brand strategy in practice? 
Establish a single home where all strategies, guidelines and best practices are gathered is naturally my first advice.


Be transparent and involve external parties such as agencies. For internal anchoring, it could be to invite to open demos, webinars and more – for everyone interested. Explain the strategy and what it's built on.


Plan for how to build internal brand engagement. To make it genuine and strong, one example could be to connect with HR and internal comms. Ensure that the company's management is onboard.
What made you and your team decide to go for a digital brand management tool? 
I had previously worked with deBroome's Brand Portal, so I was already convinced that digital is the only way. When I came to If, my new colleagues had come to the same conclusion.
We needed a common brand platform with clear usage guidelines, to better control and secure our brand expression and align all brand communications. This included providing agile teams with the right digital tools to secure all brand touchpoints and the added value to agile deliverables.
Earlier we documented brand strategies and guidelines in many different forms, and from now on we wanted to collect this information in a more modern, simple and interactive way.
"I had previously worked with deBroome's Brand Portal, so I was already convinced that digital is the only way."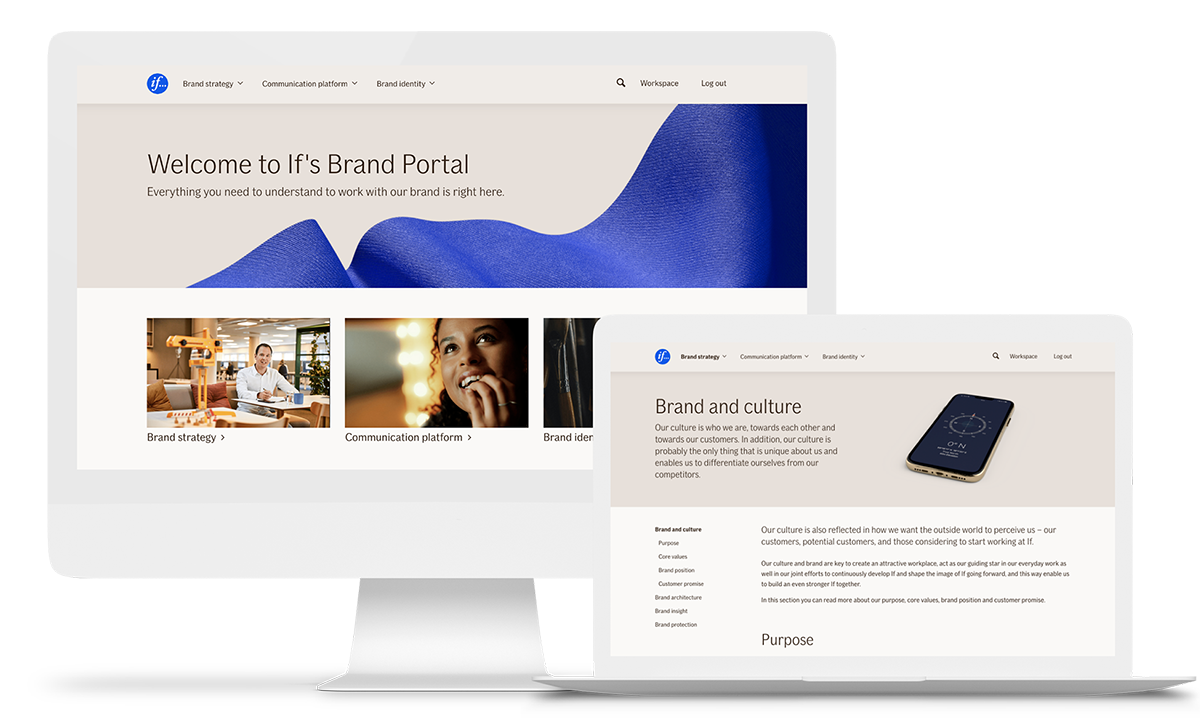 How do you see employee reactions after launch? 
What I hear is that people are really happy with the portal. It makes them feel more professional when communicating with, for example, our business units.
I've also been told it's really practical with everything in one place, people approach us with requests for additional content they would like us to include in the portal.
All this feels very rewarding of course, and it's exactly what we were hoping for.
The warmest thank you to Ylva Lipkin for taking the time to share her experiences.