Aligning all to the Axfood brand with a digital brand portal
Facing the challenges of having their identity guidelines in a long and heavy pdf, Axfood decided to go from print to digital. Ida Käll, Brand Manager, tells us about her experiences and how a digital solution helped them to easier share the Axfood brand. 
Tell us about Axfood.
Axfood is a leading food retail group in Sweden. We are a family of different food concepts that reaches around 4,5 million customers every week. Within our family you will find brands such as Willys, Hemköp, Tempo, Urban Deli and Mat.se. Together, we want to create a better day with affordable, good and sustainable food. 
Tell us about your role at Axfood. 
As a Brand Manager, one of my responsibilities includes Axfood's visual identity and brand strategy – making sure it is used and consistent in our communication. I have been at Axfood since 2014, and like it a lot. Axfood is an amazing employer and we operate in an industry that is currently developing rapidly. It is an exciting journey to be a part of. 
Describe the challenges behind the decision to create Axfood's digital brand portal.
It was not optimal to e-mail a heavy and long pdf with all our identity guidelines. Oftentimes, we got questions about where to find the latest version of the pdf, and we were also dependent on agency assistance whenever we wanted to adjust or develop our guidelines. 
After the decision was made, what did the process look like?
The brand agency, Kurppa Hosk, created our visual identity. They also helped us to transfer the content to the brand portal. My experience is that deBroome and Kurppa Hosk had a great collaboration which made it go both smoothly and fast. Our role was more to ensure that the portal looked and worked the way we wanted.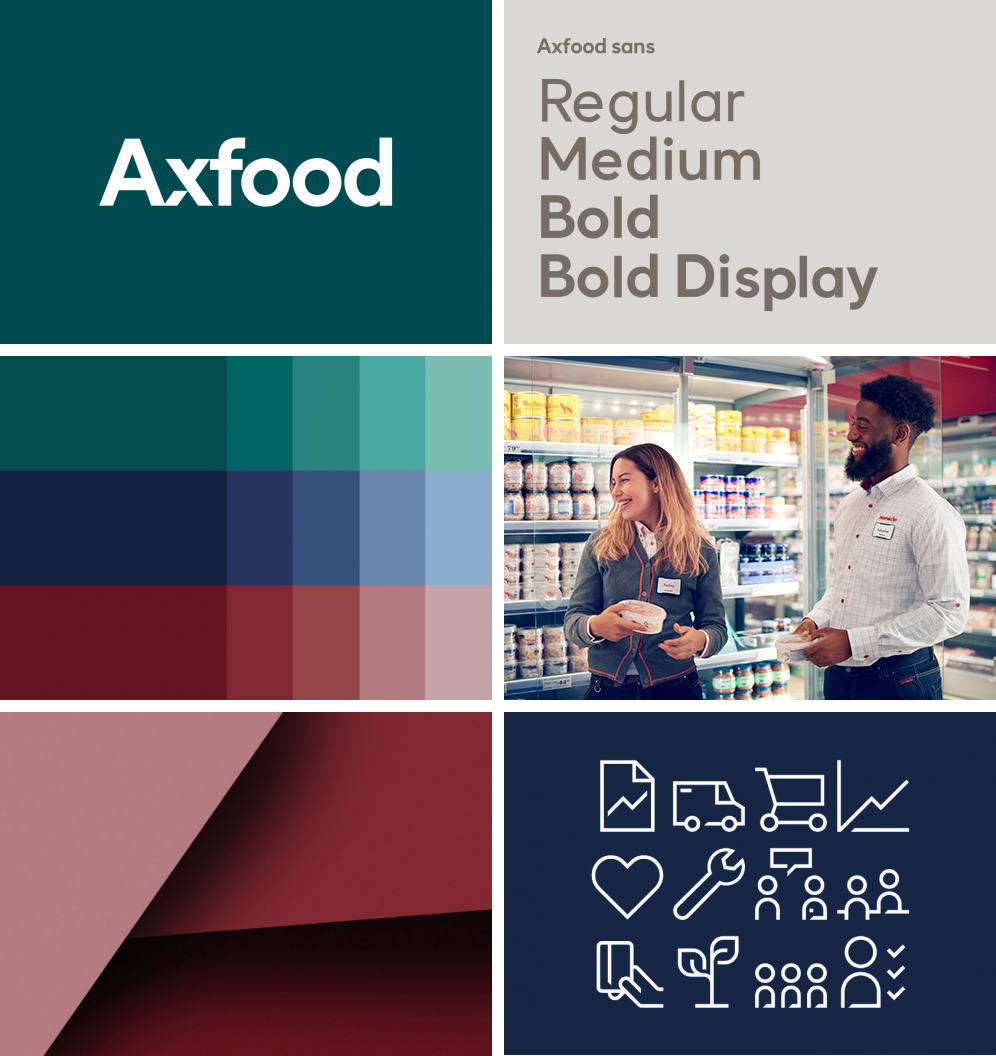 Now when the portal has been live for some time, what are the visible effects?
Definitely the advantage of not having to send a pdf, but instead being able to invite users to the portal to easily get an overview and take part of our guidelines. When developing our visual identity with an element I can update the portal myself – which has been great.

I would also say that more of my colleagues are interested to be involved and understand why we look the way we do. It is probably more fun to browse the portal, then to get through a 100 page pdf. Better availability, easier to share our visual identity, more freedom and fewer questions, are the most prominent effects. 
"… More of my colleagues are interested to be involved and understand why we look the way we do. It is probably more fun to browse the portal, then to get through a 100 page pdf."
If you were to give three tips to someone facing the same challenges as you were, what would they be? 
Compare suppliers and evaluate them based on the most suitable for your specific needs. deBroome was the best match for us. Aside from the technical platform, we weighed the opportunity for fast support and a perceptive collaborative partner, which we got.


Ask for guidance. If it feels like too big of a step, get external help from people who previously worked with the platform of your choosing. They can help you get started.


Do it! It is a freedom to have your visual identity in a portal that you can easily update on your own, at any time. 
Many thanks to Ida for taking the time to share her experiences of digitizing Axfood's brand guidelines.